GYN Pathology and Cytopathology

DPMG's team of Board-certified Cytopathologists have subspecialty expertise in common and uncommon gynecological disorders. The broad expertise among our fellowship-trained cytopathologists provides you with consistently high quality diagnostic consultations.
Unique ability to correlate outpatient diagnoses with inpatient findings.
Review of difficult or unusual cases, including malignancies, by two cytopathologists can easily be accomplished in-house, resulting in a high degree of diagnostic accuracy and rapid report turn-around.
Our cytopathologists strive to develop confident relationships with our referring clinicians, and are fully committed to assisting you in providing the best healthcare for every patient. Our cytopathologists are accessible to you for personalized consultation on difficult cases.
Quality Assurance Benefits
Our special services are what make DPMG unique. Our goal is to make life easier and help keep you on track. We realize the rigorous demands that are placed on you and your staff daily, and we want to help you provide the highest level of service to your patient.
DPMG's laboratory has consistently maintained accreditation by the College of American Pathologists (CAP), and we continuously meet or exceed the regulations of the Clinical Laboratories Improvement Amendments (CLIA) to ensure the highest level of quality control.
Monthly correlation of cytology and histology cases for all high grade lesions, cancers, high risk patient cases, and interesting cases with glandular and squamous abnormalities.
Monthly list of all abnormal cases are provided for each physician.
Retrospective review of prior negative PAP smears for all high grade cases.
Our internal quality assurance program provides follow up for all patients with abnormal PAP smears/follow up letters for all abnormal PAP results, correlation cases with histology, HPV testing, and follow up treatment for each patient.
Molecular testing is performed in-house and are not sent to an outside lab.
Constant and close monitoring of ASCUS rate by comparing overall rate of intraepithelial lesions.
Sample Documents
DPMG Offers You a Choice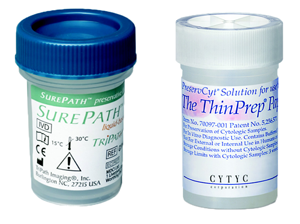 DPMG appreciates that not every practice prefers just one method, so as your full-service laboratory, we want to provide both choices for liquid-based Pap test collection as well conventional Pap slides.
Both tests DPMG offers are FDA approved, and liquid-based Pap tests have shown to identify higher rates of abnormalities compared to conventional Pap slides.
Computer-Assisted Screening
DPMG offers the ThinPrep® Imaging System with Dual ReviewTM, which combines revolutionary imaging technology with human interpretive expertise for a more accurate diagnosis. Studies have shown that using the Imager reduces the false negative fraction by 39% over manual screening. To assure quality control, 90% of all imaged slides are manually reviewed.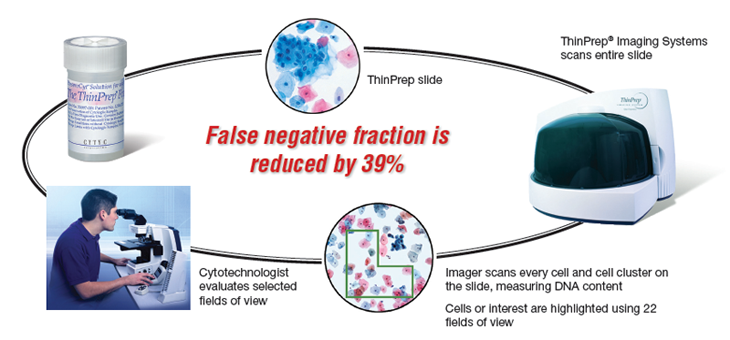 Getting the Most Out of Your Pap
All tests are performed in-house allowing for timely and accurate results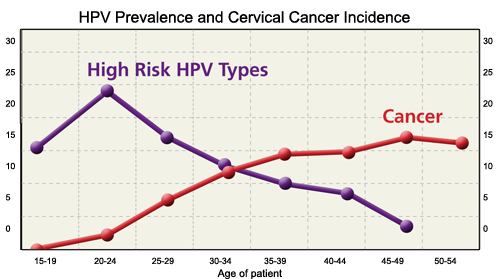 HPV Testing DPMG offers HPV testing using the Aptima HPV assay, targeting E6/E7 mRNA of 14 high-risk HPV types. The presence of E6/E7 mRNA is more indicative of the HPV infection destined to lead to disease rather than the transient HPV infections.Together the Pap and HPV test offer more reliable and accurate results. Why is it important to do HPV screening with a Pap for women age 30 and older? While the incidence of onocogenic HPV infection declines with age, the risk of cervical cancer from a persistent infection increases. For women age 30 and older, HPV testing helps identify those most at risk.
1 out of 6 women (15%) who are HPV positive and Pap negative will develop ASCU+ within 5 years
HPV Genotyping
DPMG offers HPV Genotyping types 16, 18/45. These types are found in up to 75% of all squamous carcinomas and up to 94% of all cervical adenocarcinomas.
Genotyping for types 16/18 is beneficial for patient management and recommended by ASCCP. You can use this test to further triage for ASCUS, LSIL or for patients who are 30 years of age or older, with negative cytology results who test positive for high-risk HPV.
Other Molecular Testing Using Convenient Testing Options
Chlamydia, Gonorrhea and Trichomonas testing can be performed out of the Pap vial, by using an Aptima swab collection device or Aptima urine transport tube. Annual screening is recommended for all sexually active women 25 years old or younger, and other women at increased risk of infection. This is recommended by the CDC, AMA, and ACOG.

Vaginitis testing for the detection of five common Candida species, Gardnerella vaginitis and Lactobacillus species and Trichomoniasis, can also be performed by using swab collection devices. This test helps identify mixed infections with objective, accurate results

Mycoplasma genitalium can be performed by using the Aptima swab collection devices or Aptima urine transport tube. The CDC recommends this test for women with recurrent cervicitis and considered among women with PID.

HSV 1 & 2 using the Aptima Multitest Swab Specimen Collection Kit on anogenital skin lesions.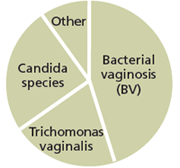 DPMG's team of pathologists with extensive cytopathology experience

If you are a clinician and would like to speak to one of our pathologists, please call 916-446-0424.