Dermatopathology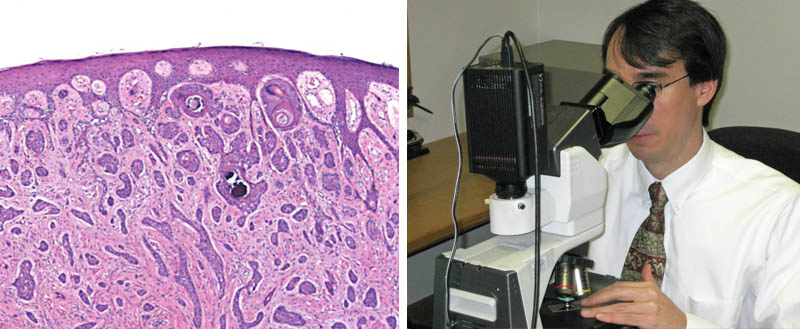 Diagnostic Pathology Medical Group's team of Board certified dermatopathologists actively participate in clinical dermatological organizations and provide consultative services to dermatologists, primary care physicians and surgeons.
Our dermatopathologists have subspecialty expertise in common and uncommon skin disorders, including pigmented lesions, inflammatory dermatoses, skin cancers, precancerous keratoses and cutaneous lymphoproliferative disorders. The broad expertise among our dermatopathologists provides you with consistently high quality diagnostic consultations.
All skin biopsies are interpreted by a Dermatopathologist
Tissue and slide processing is performed on-site.
Rapid report turn-around – 24 hours for routine cases.
Web accessible diagnostic reports and photomicrographs.
Special stains, including a large inventory of histochemical and immunohistochemical and immunofluorescence studies.
Clinicopathologic correlation
Sample Report
Our dermatopathologists welcome the opportunity to assist you with any questions you may have, including the appropriate handling of your specimens.

If you are a clinician and would like to speak to one of our pathologists, please call 916-446-0424.